The HeadHouse – Craft Beer Cafe
HeadHouse is open 4 PM to Midnight Tuesday–Thursday, 4 pm til 2 am on Friday-Saturday and from 11 AM–10 PM on Sundays. 122 Lombard St.; Philadelphia, Pa. 215-922-1223
Philly's finest craft beer bar / gastropub offering varied but appetizing food menu, selections from the sushi bar as well as other bar-friendly bites…There are many reasons to make a stop at HeadHouse, the roomy tavern located at 122 Lombard Street, Philadelphia, Pa. For instance, the 20 taps, offering a rotating selection of craft brews from across the nation. Or the fact that there are two, spacious bars, allowing easy access to drafts, drinks and the over 100 beers in bottles and cans from around the world.
Live Entertainment. CLICK HERE for Live Entertainment Events Calendar. Happy Hour Specials (4pm-8pm) – $3 16 oz. Pounders Coors Light, Miller Light, Budweiser & Yuengling, $4 Pintsof Yuengling, $5 Select wines & well liquor drinks $1.00 off any craft beer…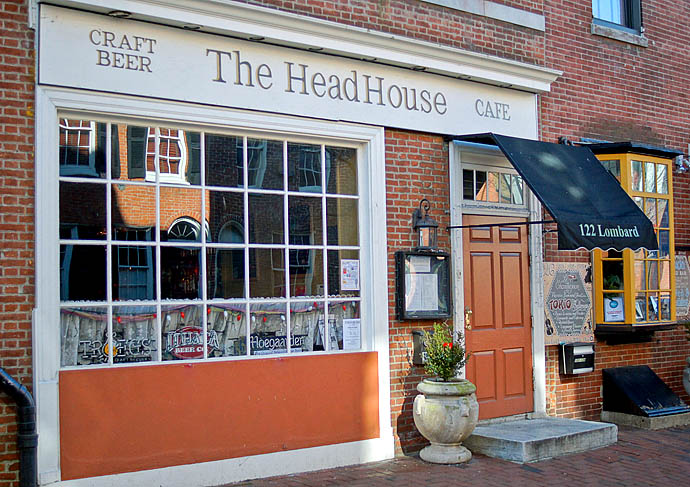 We've got another argument for making this Society Hill brew hall one of your favorite destinations: our loyal customers will receive special discounts on every visit! Tell your server or bartender you heard about the restaurant on our new and improved website and want to take advantage of the deals, and you'll receive $1 off all drafts and 10% off your food. This is good all evening long. Not bad, eh?
This is all thanks to Madam Saito, HeadHouse owner and Philadelphia's reigning "Queen of Sushi." The classically French-trained chef has also apprenticed with Japan's best sushi masters, and can do wonders with raw fish, but she also is all about having a good time, even in a tough economy. She wants her Second Street pub to offer "the finest and most affordable craft beer in town." Many of you may not be aware of this, but The Headhouse is owned & operated by renown local sushi chef icon Madame Saito. For over a decade she ran the restaurant as Le Champignon & Tokio Sushi Bar mixing the best elements of French & Japanese cuisine. Looking to possibly retire, Madame Saito rented the restaurant. After a major renovation into an upscale "Beer" restaurant and name change to "The Headhouse", the new owner suddenly passed away just a few short months after getting open. So Madame Saito returned from retirement and we have the best of both worlds… wonderful Japanese food plus an excellent beer selection.
Definitely don't overlook the varied but appetizing food menu, which offers selections from the sushi bar (now located in the back of the space), but also features other bar-friendly bites. From Asian-themed options like gyoza dumplings, spring rolls and teriyaki to elevated standards like duck and cheddar quesadilla or a sirloin burger, the bill of fare is full of choices that are $10 and under. The priciest entrees top out at $23, with most hovering around $17.
Madame Saito is back and The HeadHouse will be a place that redefines what it means to be a Philadelphian today. Madame Saito, Philadelphia's Chef of the Year 2010, would like show her appreciation for everything the greater Philadelphia area has offered her and her family for the past thirty years introducing new cuisines in this great city. Being cognizant of the tough economy, Madame Saito (re)introduces the HeadHouse, a craft beer café that will serve as the craft beer haven to all beer drinkers with the finest and most affordable craft beer in town! Sake Bomb! Banana Bomb! Jager Bomb!
While Madame Saito believes that everything in dining revolves around the guest dining experience, quality of food, hospitality, and making the restaurant a fun and friendly environment where you feel more like a family member than a ticket number. The HeadHouse is a place where Art, Music and Craft Beer Collide. Delicious Sushi and Sashimi. She is working with a number of local musicians and artists alike and bringing their creativity and plastering it all over the walls of HeadHouse, making it a place that is here for the locals. The front and back galleries are filled with local Philly Art from artists all over the city. The idea is to create a stimulating environment where forms of art in many mediums come together and can be seen and appreciated by all those who venture thru our doors. So, come to the HeadHouse for the finest and most affordable craft beer and get an international flare of the tastiest dish that Philadelphia has to offer! Come sit back and relax, Listen to some great music, view some incredible art and just make The HeadHouse your home away from home.
As the "Queen of Sushi" in the Philadelphia area, Madame Saito is a perpetual learner of the culinary arts. She was recently recognized as an exemplary international sushi instructor by the Japan America Society of Greater Philadelphia and in addition to her Japanese roots, Madame Saito also has formal education at the Le Cordon Bleu and the Ritz Escoffier in Paris. As an educator, Madame Saito has been an instructor at Temple University Center City Campus for the past 21 years. In addition to Temple University, she has provided sushi demonstrations at the Philadelphia Museum of Art, the University of Pennsylvania, and many other public and private events. As recognition for Madame Saito's dedication to teaching about sushi and Japanese culture for the past 28 years, she was awarded an Honorary Doctorate in Education from Temple University Center City in April 2009. Chef of the Year 2010 from the American Culinary Federation (AFC).
Madame Saito welcome you to try pairings of our finest craft beers, Sushi and delectable cuisines from both the West and the East.